« CONGRATS: Larry Klinehoffer | GTDS Information Index | Check Out Our New Sign ! »

September 09, 2009
Trade-in & Trade-Up Extravaganza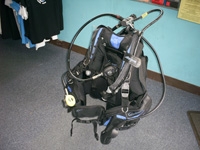 Extended!
We have had such a great response we have decided to extend the sale through the end of the Month!
Is your equipment getting old? Do you wish that they had a "Cash for Clunkers" on dive gear? Now we do! Bring in your old working BCDs and Regulators and we'll give you CASH discounts on your new gear! We have Never held a promotion like this! You can earn up to $550 for your old reg set and your old BCD. We'll even accept multiple trade-ins up to half off your purchase! So if you need a new BCD grab that old reg you never use and trade it in for cash towards it. Grab the old BCD and trade that in too! Have you been craving the Abyss 42 or Icon BCD? Now's the time! You can get up to half off your purchase and Save Hundreds of Dollars! See Store For Details.
Check Out Our Other Specials!
15%-20% off individual Masks, Snorkels, Fins, or Boots
15% off Accessories including Gloves, Bags and Lights
Up to 40% off select BCD Packages – (still up to 50% off with Trade-Ins)
25% - 30% off Snorkeling Packages
$55 Full Foot Fins! Blowout Pricing!
The offers are limited to stock on hand and certain exclusions apply.